print-friendly page
Oxidation Stability Tester F400 - now distributed by Normalab SA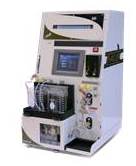 Falex Oxidation Stability Tester F400
Falex offers the highest quality instrument and test consumables (heater tubes) for ASTM D3241, oxidation stability of jet fuel. A compact, user friendly instrument and heater tubes that meet the most rigorous standards set by ASTM Subcommittee J. D3241 was changed  in Table 2 and the following footnote was added : The following equipment, heater tube and filter kits, manufactured by Falex Corporation, 1020 Airpark Dr., Sugar Grove, IL, 60554-9585, was run through the test protocol in RR:D02-1550 and determined as equivalent to the equipment used to develop the test method. This test is detailed in RR:D02-1714.
Standard Test Methods
ASTM D3241
Full Manufacturer's specifications can be found here.
Back